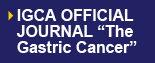 Minutes of joint Executive and Council Meeting 2003
Date: May 4, 2003, 12:00 - 2:00 p.m.
Venue: Cavaliere Hilton Hotel, Rome, Italy
Participants were
President
M.F. Brennan (U.S.A)
President-elect
E. Santoro (Italy)
Past President
J-P Kim (Korea)
The 3rd President
M. Kitajima (Japan)
Secretary General
T. Takahashi (Japan)
Treasurer
Y. Hiki (Japan)

Editor

J.R. Siewert (Germany)

Council

J.A Ajani,. (U.S.A.)
J.W.L.Fielding (U.K.)
J.J.Gama-Rodrigues (Brazil)
M.Hakama (Finland)
Y. Kato (Japan)
S.M.Kim (Korea)
M.S. Kahpeh (U.S.A.)
K. Maruyama (Japan)
S.J. Min (Korea)
T. Nakjima (Japan)
R. Rosi (Chile)
C. Wittekind (Germany)


Office Secretary

K. Arai (Japan)
K. Miwa (Japan)
Y. J.Mok (Korea)
T. Sano (Japan)
T. Yamaguchi (Japan)
W. Yasui (Japan)

1.
Opening remarks:
President of IGCA, Dr. Brennan gave opening remarks and chaired the meeting.


2.
Welcome Address:
Congress President Dr. Santoro gave cordial welcome message to Rome.


3.
Adoption of Agenda:
Draft Agenda was adopted.


4.
Adoption of the minutes of the 2001 executive and council meeting in New York:
The Draft of Minutes of the executive council meeting held at New York Hilton Hotel on April 29, 2000 was approved unanimously.


5.
Report of Secretary General:
Secretary General of IGCA, Dr. Takahashi reported the number of membership of IGCA as of April 30, 2003. A total of IGCA members were 1044. Regarding to countries, it was 608 for Japan, 100 for Korea, 39 for Brazil, 31 for Italy, 28 for Germany, 26 for U.S.A. and 212 for other countries.
Concerning our official journal, "gastric cancer" has been distributed to 6,000 members of JGCA and IGCA. The Journal has been included in the Index Medics, and now, all the published articles are listed in "Medline".
The number of submission has been increasing over the past years, and editorial committee is making constant efforts to improve the quality of the journal.
Secretary General Dr. Takahashi reported that President Brennan made kind donation of US $ 25, 000 to our IGCA last December. Dr. Brennan said in his letter that this is a product of International Gastric Cancer Congress meeting in New York in 2001. And he hopes that this will begin a fund for the International Gastric Cancer Association, so that in the long term, the Association can begin to organize and develop this congress as the product of the association.
Secretary General expressed sincere thanks to President Brennan for his contribution.



6.
Report of Treasurer
On behalf of Treasurer, Dr.Hiki, Dr.Nakajima reported the financial reports of 2001 and 2002. Total amounts of income were $22,136 for 2002, and $29,663 for 2002. The source of income was annual due and advertisement for membership directory. On the contrarily, total amounts of expenditure were $25,347 for 2001, and $29,664 for 2002. The balance in 2001 was minus $3795, and that in 2002 was minus $1. Main cause of shortage was journal payment. The shortage was processed by the reserve brought forward. Total balance as of December 2002 was $32,763. These financial reports were approved by participants of general assembly.
Next, the budgets for 2003, and 2004 were proposed as follows: the total income and expenditure were expected to be $65,850 for both terms. Main increase of budget was due to the raise in the annual due from $30 to $50. This proposal was approved unanimously.



7.
Issues to be discussed
(a) New member of officers.
According to the constitution Article 6 (4) the term of officers excluding President, President-elect and Past President is expired at this congress.
Before the nomination of officers, Secretary General Dr. Takahashi expressed he like to resign the Secretary General of IGCA, because he wishes to transfer the poison young generation for development of IGCA.
Thus, President appointed following officers nominated by councils and forwarded to general assembly for approval.



| | |
| --- | --- |
| President | Santoro, E. (Italy). |
| President-elect | Kitajima, K. (Japan) |
| Past President | Brennan, M.F. (U.S.A.) |
| Secretary General | Yamaguchi, T. (Japan) |
| Treasurer | Hiki , Y. (Japan) |
| Editors | Siewert, J, R. (Germany), Kobori ,O.(Japan) |


(b) New members of council
According to the constitution Article 6 (5) the term of councils is expired at this congress.
Council members were elected by members as follow.



| | |
| --- | --- |
| Ajani, J.A (U.S.A.) | Brennan, M.F. (U.S.A.) |
| Bevilaqua,R.(Brazil) | Correa,P.(USA.) |
| Calvo, F. (Italy) | Fielding,J.W.L.(UK) |
| Gama-Rodrigues,J.J.(Brazil) | Garofalo,A.(Italy) |
| Hakama,M.(Finland) | Kassab,P.(Brazil) |
| Kato,Y.(Japan) | Kim,S.M.(Korea) |
| Kitajima,M.(Japan) | Karpeh,M.S.(U.S.A,) |
| Maruyama,K.(Japan) | Mann,Bruce.(Australia) |
| Min,J.S.(Korea) | Mok,Y.J.(Korea) |
| Nakajima,T.(Japan) | Popiela,T.(Poland) |
| Rosi,R.(Chile) | Santoro,E.(Italy) |
| Sobrinno-Simoes,M.(Portgal) | You,Wei-Cheng (China) |
| VanVerde,C.J.H.(TheNetherland) | Wittekind,C. (Germany) |


Secretary General Dr. Takahashi,T. was elected as an honorary member of IGCA by council.



8.
Congress President Dr. Santoro explained at the 5th IGCC Rome meeting.
President reported the 5th IGCC will be held at Cavalieri Hilton Hotel, Rome , May 4th to May 7th and more than 1,000 participants are expected in this congress. The congress included WHO-CC/IARC and 1st OMED spring meeting.


9.
Dr. Kitajima (Japan) reported the 6th IGCC will be held in Yokohama International Hall, May 6~9, 2005.


10.
Concerning the site of 7th IGCC, there were two candidates, Sao Paulo Brazil, and Porto Port Portugal. Each representative gave short speech. The executive and council elected unanimously Sao Paulo as the venue of 6th IGCC in 2007.
Congress President will be Dr. Gamma-Rodrigues.


11.
President Brennan gave closing address.
Meeting adjoined at 14:30
Respectfully submitted,
Toshio Takahashi, M.D., Ph.D.