IGCA News April 2022
Address from Prof. Paul F. Mansfield, New IGCA President and 14th IGCC Houston Congress President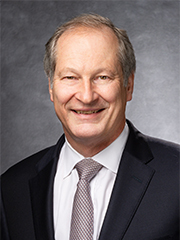 Dear Colleagues,

It is a tremendous privilege to serve you as the President of the IGCA. The global pandemic from SARS COV2 has ravaged the world for more than 2 years. Many of you having been affected personally by this either with your own health or the loss of a loved one. Despite this challenge, through the tremendous efforts of many of you the 14th IGCC was convened in Houston, Texas, and by all accounts was a great success. I especially want to thank the 250 people who attended in person, some despite the need for quarantining on their return home.

While the number of people able to attend in person was low compared to historical standards, many hundreds more attended virtually. The energy that all of you provided created a wonderful hybrid experience and you brought together perhaps the greatest scientific content we have ever had at a congress.

In addition to the great scientific sessions, hearing from Nobel Laureate Dr. Jim Allison and Astronaut and Orthopedic Oncologist Dr. Robert Satcher were enlightening. Perhaps one of the most eye-opening presentations was the Nishi Takahashi Lecture provided by Dr. Paulo Kassab where he spoke about the real challenges we face in managing gastric cancer across the socioeconomic spectrum. We also saw a greater involvement of patients and patient advocacy groups. One of the tremendous positives that has come from having a hybrid meeting was that all the sessions were recorded and are still available for those of you who registered. We anticipate that they will continue to be available for the next several months. If you have time, I encourage you to watch some of the sessions you were not able to see before.

I know that each of you will continue your efforts in caring for patients and advancing our understanding and treatments for this terrible disease. In this way we will be able to help more patients, more effectively, but as Dr. Kassab noted, we have a very long way to go.

Preparations for the 15th IGCC are already in full swing. Please lend your time and expertise to Dr. Yuko Kitagawa and his team who are working diligently toward a successful Congress. I look forward to seeing all of you next year in Yokohama.


Prof. Paul F. Mansfield
14th IGCA President