IGCA News August 2017
Message from Prof. Jiafu Ji, New IGCA President and 12th IGCC Congress President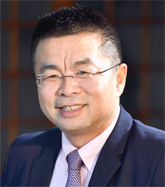 Dear Fellow Members, Colleagues,

It is an absolute privilege and incredible honor for me to serve IGCA as the President for the term 2017-2019.

It is fair to conclude that our 12th IGCC congress in Beijing was a very successful and rewarding event. I would like to express my profound gratitude and sincere thanks to all our board members of IGCA for the valuable guidance and untiring help to make the congress a great success.

The congress had 3816 participants from 48 countries across the world. 1245 abstracts had been submitted including 99 oral presentations and 540 posters. I wish to reiterate our sincere thanks and appreciation to all distinguished guest speakers, moderators, delegates and vendors. Thanks to your effective contribution and active participation, the congress was very inspiring and fruitful.

We have lots on the go for the upcoming two years. We will be vigorously committed to promoting our Association including educational and subsection events. And we will remain tireless in our efforts to identify and initiate critical research projects on gastric cancer around the world - research that continually leads to more effective prevention, diagnosis and treatment of gastric cancer.

We will keep focus on boosting membership by encouraging recognition and participation, creating opportunities and access, raising funds for the Association, working on ways to continue making payment more convenient for our members.

We expect more new members in the near future and our Association become much more effective in the continued effort of improving service to our members and in securing the future growth and prosperity of clinical practice and research on gastric cancer around the world.


Prof. Jiafu Ji
12th IGCA President