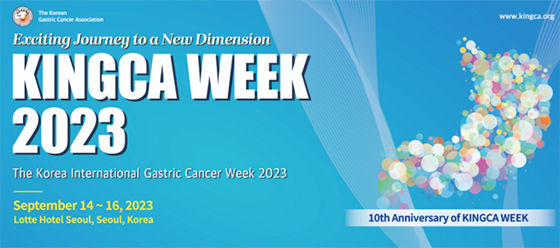 IGCA News May 2023
The 10th Korea International Gastric Cancer Week 2023 (KINGCA WEEK 2023) in Seoul, Korea

The 10th Korea International Gastric Cancer Week 2023 (KINGCA WEEK 2023) will be held on September 14 (Thu) - September 16 (Sat), 2023 in Seoul, Korea.
KINGCA WEEK 2023 invites esteemed speakers from around the world to offer a cutting-edge and exciting science program with networking opportunities.
In particular, "Multidisciplinary Team Case Conference (MDT Case Conference)" will be held during the Congress. The topic is MDT treatment for Stage IV Gastric Cancer, and selected cases reviewed by the Scientific Committee will be discussed in depth at the KINGCA WEEK 2023.
For more information, please visit its official website. URL: https://www.kingca.org/html/

Overview

Dates: September 14 (Thu) - September 16 (Sat), 2023
Venue: Lotte Hotel in Seoul, Korea
Theme: Exciting Journey to a New Dimension
Host: The Korean Gastric Cancer Association (KGCA)
Congress Chairmen: Prof. Sang- Uk Han (Ajou University)
Congress President: Prof. Hyung-Ho Kim (Seoul National University)
Official Language: English
Secretariat of KINGCA Week 2023: kingca@kgca-i.or.kr

Important Dates
Deadline for Abstract Submission (Extended): May 23, 2023 → June 23, 2023 (KST)
Notification of Abstract Acceptance: July 7, 2023 (KST)